Providing the best experience
Clearlink combines people with the smartest technology to provide intelligent marketing, sales, and data science solutions for the world's leading brands. Supported companies range from household telcos to premiere consumer brands and utility companies.
Selling on chat
Clearlink was interested in using live chat as a sales channel for some of their clients. They saw this as an opportunity—on the phone, conversations tend to have longer handle times, but customers want quick answers when they chat. Clearlink reasoned that they could use chat to increase conversion rates more cost-effectively than a phone call would.

According to Andy Larisch, Director of Digital Messaging at Clearlink, "we were looking to get into the AI space to help efficiencies within our chat team. We noticed there were opportunities to increase concurrency, lower handle time, and we felt AI would be a good tool for that."
Revenues rise, sales cycles drop
Clearlink deployed Augment CXM across several of their accounts in several industries. After a few months of deployment, the agent team started to see a slow and steady decline in average handle time (AHT). Within three months, Clearlink's average handle  time dropped by nearly 18%. This significant improvement to AHT allows for the same number of agents to take on more customers.
Decrease in sales cycle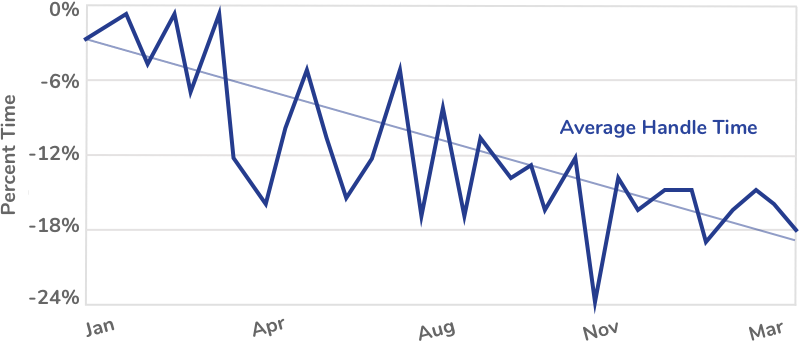 Within the same 14 months, Clearlink's chat volume grew to 3.6X from where it started. During this period of growth, something unusual happened to revenue. While common sense would say revenue should also increase by around 3.6X, or less due to the decreased individual attention from the agents, revenue grew substantially faster...